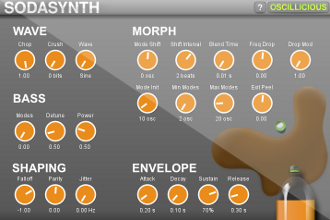 A pristine, mellow sounding synth.
Easy to layer, easy to mix.
From warm leads to shimmering pads and deep bass, listen to some of SodaSynth's classic sounds:
Bring new life to classic sounds.
SodaSynth is a synthesizer plug-in designed to give artists clean sounds that fit easily into tracks.
Starting with an ensemble of oscillators, SodaSynth smoothly adds or subtracts harmonics while modulating the frequencies of these new components in novel ways. The results are mellow harmonies that sound familiar, yet can morph in new ways.
Why Dry?
Synthesizers with heavy effects ("wet") can be both difficult to work into a mix and discourage further sound design.
Rather than imposing a characteristic sound on artists, we wanted to create a unique, "dry" sounding synth for artists to shape with their own choice of effects. SodaSynth makes it easier for you to create and use the sounds you want rather than the sounds that some company wants you to use, so you can find your own truly unique signature sound.
Hear More
We wrote some short songs to demonstrate some of the sounds SodaSynth can produce.
This first demo was produced using the built-in synthesizer presets that come with SodaSynth without any 3rd party effects. (Drums were sample-based.)
SodaSynth Demo 2 (No Effects)
Then, we took this track and added some additional flavour using the chorus, delay, and compressor effects built into our favorite DAW:
SodaSynth Demo 2 (With Effects)
Because SodaSynth is dry, it's easy to layer many instances of it and apply subtle effects without it turning your mix into mud.
Fantastic Features


Clean VSTi/AU plug-in synth instrument
(Shape your own sound!)
Compatible with Logic Pro, Ableton Live, GarageBand, Cubase, Renoise, energyXT2, and other VST or AU hosts
Light as a feather - Loads in an instant and goes easy on your RAM.
Unique spectral morphing algorithm to evolve sounds
5 classic waveforms, up to 32 oscillators per note
Includes 37 built-in synth presets
Full 8-note polyphony and an ADSR envelope
Easy-access help menu puts all the documentation at your fingertips.
No DRM! - No product activation, authorization, soul-eating "service center", or obnoxious in-your-face copy protection. If you buy it, it's yours!
Available for Windows and Mac OS X (10.6+, Intel)
Includes both 32-bit and 64-bit VST and AU plugins.
Easy Integrated Help
Help overlays for each synthesis stage can be easily accessed from within SodaSynth: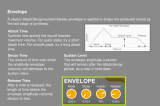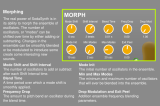 Try SodaSynth for Free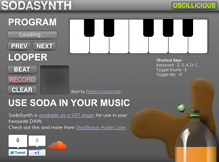 With Google Chrome, you can try SodaSynth right in your browser!
Try it now in the Chrome Web Store!
This "diet" version of SodaSynth allows you to play all of the presets and jam along with a drum loop. The full version of SodaSynth comes as a VST and AU plugin so you can use it in your favourite DAW like Ableton Live or Logic, and gives you full control of the synthesis parameters.
Videos - See the VST / AU Plug-in in Action
Sound Design with SodaSynth