How to Cut Audio Files
This tutorial explains how to cut up audio files with BeatCleaver. If you need to cut an audio file into different sections and split up, this article will show you how to do it. We've also thrown in some tips for advanced users at the bottom of the page!
BeatCleaver is software designed to make it very easy to cut, split, and trim audio files. It can open MP3, M4A, FLAC, and WAV files (plus WMA on Windows), and it will split those into separate WAV files for you to preserve quality. BeatCleaver revolves around the idea of "slice points", represented by red lines showing where the audio will be split. When you want to chop audio in BeatCleaver, you first insert slice points, then export the slices all at once.
Let's start at the beginning and see how to cut audio files:
In BeatCleaver
Open an Audio File

To open an audio file in BeatCleaver, drag it from a folder and drop it on the BeatCleaver window, or in the menu, select "File->Open..."

Insert Slice Points (Manually)

If you want to cut the audio manually, you can right-click on a place in the waveform and select "Slice Here". A slice point will be inserted where ever you right-clicked.

Alternatively, hold the Shift key on your keyboard and left-click on the waveform to insert a slice point. This can be a faster approach if you need to split a file in many places.

Alternate Approach: Slice into 4, 8, or 16 parts

You can split the audio file into equal sections by using the Slice in 4, Slice in 8, and Slice in 16 buttons on the toolbar. Try clicking one of those now. You can undo this via the menu by clicking "Edit->Undo".

Export your Slices

To export your slices, select "File->Save Slices...", and pick a directory to save the slices to. BeatCleaver will then split your audio file at the slice points, saving each slice to a separate WAV file.

Check the tips below for other ways you can export your slices, including how you can drag slices right out of BeatCleaver.
That's it! Your audio file is now cut or split, and the slices are now saved to your hard disk. This tutorial covered how to split or cut audio in BeatCleaver, and how to save the resulting slices to disk. These slices are saved in the WAV format, which is universally compatible with other audio software, so you can import them into a DAW or play them with any other audio software. Read on for more tips on how to slice audio with BeatCleaver.
Tips for Slicing Faster: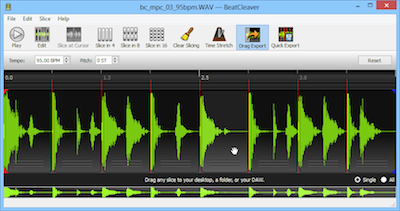 You can drag slices right out of BeatCleaver.
The "Drag Export" button toggles a mode that allows you to drag your slices right out of BeatCleaver and into a directory, your desktop, or another program like Ableton Live, Logic, REAPER, etc.
The "Quick Export" button will immediately save all your slices to the same directory as the original audio file.
If you hold down the Shift key and left-click on the waveform, a slice point will be inserted at your cursor.
Tips for Perfect Slicing:
In the Slice menu at the top, ensure "Snap to Zero Crossings" and "Fade In/Out Slices" are both enabled. (They are enabled by default.) These options greatly reduce the chance of any popping artifacts when slicing.
If you need to slice into perfectly equal sections (having the exact same number of samples in each slice), disable "Snap to Zero Crossings" in the Slice menu.

Toggle looping over a slice, then click "Slice in 4"

to chop just that region.

You can slice a file in up to 64 parts by going to Slice->Slice Into in the menu at the top.
The Advanced Slicing menu (Slice->Advanced Slicing...) allows you to slice a file at equal musical intervals. You can specify that an audio file should be sliced every X beats or bars. For example, you can slice a song into equal 4 bar segments.
Sometimes you don't want to slice over an entire file. You may want to start and end slicing at different spots. To do this, drag the red and blue trim markers at either end of the waveform, so that they surround the region you want to slice. When you now apply any of quick slicing methods (eg. Slice in 8), the region marked by the trim markers will be sliced.
Another way to slice over a region of audio is to enable looping on that region, by clicking the grey loop indicator above a slice. (You must first place slice points around the region.) When looping is enabled, all the slicing buttons apply to only the looped region.
We hope this tutorial was helpful, but if you need extra help or have suggestions on how we can improve this tutorial, please let us know!
About BeatCleaver for Windows and Mac OS X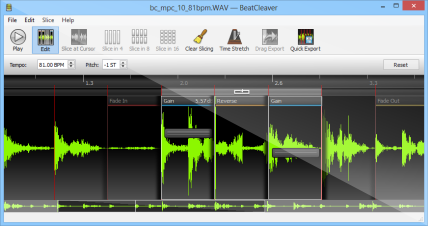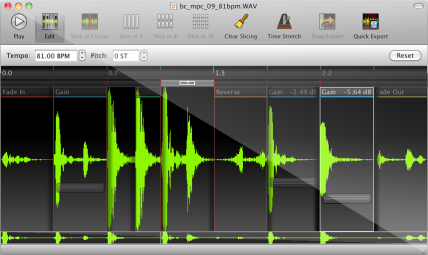 BeatCleaver is a sampling audio editor and beat slicer for sampling songs, recordings, and beats.
Chop, time-stretch, repitch, and edit all your samples and sounds. With fluid waveform editing and drag export, BeatCleaver makes the sampling workflow quicker and simpler.
Find out more about BeatCleaver!
Features at a Glance:
Slice-to-MIDI
Chopping on-the-fly
Smooth Zoom
Time Stretching
Pitch Adjust
Powerful Slicing
Drag and Drop Slice Export
Designed for Musicians
Real-Time Editing
Unlimited Undo/Redo
MIDI Controller Support
Automatic BPM Detection