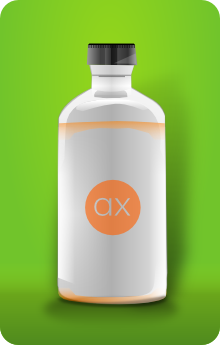 What on Earth?
Deep underground, our crew of sound designers from the Pacific Northwest uncovered a ridiculously expensive analog modular synth and went to work immediately excavating their newly discovered sounds. Our team meticulously wired, rewired, and tweaked until they were finally able to extract the most original and raw analog sounds from this dusty synthesizer.
Brand New Sounds
These samples just sound different.
Through a series of wild jam sessions, we've managed to create a range of sounds you've never quite heard before, and we're proud to offer these analog modular sounds exclusively through Oscillicious.
Analog Made Affordable
The Analog Extracts sample pack was recorded from a rare, original Buchla 200-series analog modular synthesizer. Never heard of it? Synthtopia wrote about it in How To Spend $40,000 On A Synthesizer.
We tamed this beast and coaxed it into producing over 200 analog samples, which we've brought to you at a price that won't break the bank.
Warning: Laser Blasts
Analog Extracts includes a collection of 63 mind-blowing laser sounds, perfect for anything from electro build ups to accents for your next hip hop track.
Exclusive Bonus: VST and AU Plug-in (64-bit too!)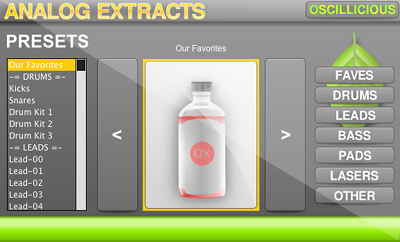 Analog Extracts includes a bonus VST and Audio Units plug-in that instantly transforms each sample into an instrument mapped to the entire keyboard.
Powered by a brand new Oscillicious sampler.
Lightweight, fast, and easy to use.
No mapping required - Easily load the entire sample pack.
Preview quickly with easy preset browsing.
Works with any VST or AU host, no sampler required.
The Analog Extracts VST and AU plug-in is available for Windows and Mac OS X 10.5+, in both 32 and 64-bit flavors. Yum!
Full Feature List


227 pure analog samples, carefully curated and tweaked to perfection, including:

32 bass sounds
13 gritty pad sounds
63 of the most original, analog laser sounds you've ever heard
28 synth lead sounds
28 other assorted synth sounds

Analog drum samples:

35 snapping snare sounds
28 analog drum kicks

91 megabytes of industry-standard WAVE samples (16-bit, 44.1 KHz stereo)
Bonus VST and AU plug-in, 32 and 64-bit!

Includes presets for each individual bass, lead, laser, pads, kicks, snares, and several drum kits.
Windows: VST plug-in requires Windows XP
Mac OS X: VST and AU plug-in require OS X 10.5+ (Intel) or greater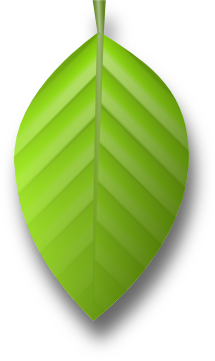 About the Sound Designers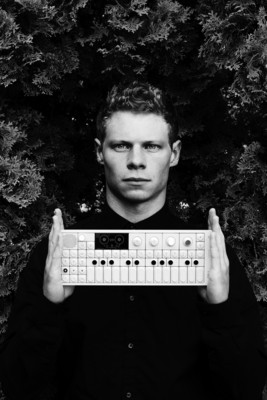 Analog Extracts was conceived and produced by the Pacific Northwest's Thor Kell and Dan Godlovitch, also known as Fractal and Okpk. This Canadian duo produce everything from IDM to dub and everything in-between with ambient influences and orchestral nods.
As seasoned producers, these two put their sound design skills to the test for your enjoyment, and created something truly unique with Analog Extracts.
If you dig their sounds, be sure to check out Fractal and Okpk on SoundCloud.