Buy both plug-ins together and save 22%.
$45.00
Includes two VST and AU plug-ins:

30 Day Money Back Guarantee
We offer a 30-day money back guarantee.* If our products don't work with your computer or you're not fully satisfied, we'll refund your full purchase price. This allows anyone to try the full version of our products risk-free.
Before a refund can be processed you will be required to run Oscillicious's license removal tool to "return" your software license to us. After a refund has been processed you will no longer be able to use the software.
Refunds cannot be issued after 30 days of purchase.
*Please note: Our refund policy only applies to products purchased directly through our websites, including:
www.oscillicious.com
www.jamdeck.net
If purchasing through a 3rd party reseller, you are subject to the return policy of that vendor.
Payment Methods and Purchasing Information
Oscillicious products are available as digital downloads with the following payment methods:
PayPal is fast, easy, and secure.
Credit card is also handled by PayPal, and no PayPal account registration is required.
After purchase, a registration key and download link will be sent directly to the email address associated with your PayPal account.
Though most registration emails are instant, if you do not receive your key within 24 hours, please contact support.
Windows or Mac OS X?


Both! We recognize that many artists produce in cross-platform environments and so licenses for both Windows and Mac OS X versions are provided with every purchase.
Frequently Asked Questions
Do you accept credit cards?
Yes! We accept Visa, MasterCard, Discover, and American Express through PayPal (no sign-up required). Please see the image below for clarification of how to pay with credit card.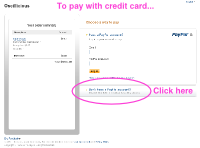 Do your VSTs work with my host? (eg. Ableton, Cubase, etc.)
Our plugins are tested with Ableton Live, GarageBand, Renoise, energyXT 2, and Reaper on Windows 7, Windows 8, and Mac OS X 10.6. We strive for the highest compatibility with all VST and AU hosts through vigorous testing.
What if your VST/AU plug-in doesn't work with my host?
Please email us right away! We'll make it work.
Other Questions?
Please send us an email and we'd be happy to answer them!